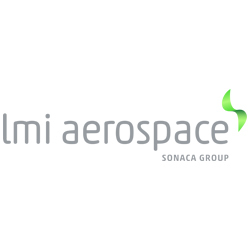 SAP Business Transformation Leader / Solution Architect
Sorry, this job has expired.
Saint Charles, MO
WHO ARE WE
LMI is a world-class leader in designing, building and manufacturing aerospace structures, systems and components for commercial, business, regional, and military aerospace customers. We employ engineering, manufacturing and testing experts throughout the United States and the rest of the world. Our integrated team approach and full life cycle capabilities enable our employees to take advantage of a wide range of opportunities for career growth within our organization.
POSITION SUMMARY
We are currently seeking a SAP Business Transformation Leader/Solution Architect. The SAP Business Transformation Leader/Solution Architect will report to the Vice President of Information Technology and will be responsible for all aspects of LMI's SAP and Business Intelligence (BI) development and rollouts. 
Currently, LMI's SAP applications include S/4 HANA, Fiori, Solution Manager, Process Orchestrator, Business Objects and Data Services. LMI is presently undertaking the design of a new BI architecture and solution which will fall directly under this position's responsibility to ensure successful execution and deployment.
This position will be responsible for all aspects of LMI's SAP and Business Intelligence (BI) implementations and Application Management Support (AMS). The successful candidate will have a demonstrated ability to act as a subject mater expert.
The person filling this position will be responsible for coordinating the IT resources and Integration activities related to the ERP Implementation. He/she will work with the ERP Program Office to define the ERP project including the following documents: Project Charter and Scope, Project Plan, Project Schedule, Training Plan, Communication Plan, Change Management Plan, Resource Plan, Key Project Performance Indicators, and Risk Management Plan.  
This person will be responsible for providing project planning, project execution and technical expertise in conjunction with subject matter experts to ensure all technical requirements of the project are met. While performing all duties and responsibilities this person will model LMI values and principles and act in a manner consistent with the LMI Code of Business Conduct and Ethics.
ESSENTIAL JOB RESPONSIBILITIES
Drive the successful rollout of LMI's SAP S/4 Hana software and will:
Interface with the ERP Steering Team.
Define which processes are within the scope and outside of the scope of the ERP implementation project.
Develop a strategy for implementing new processes and software across the enterprise.
Understand and be able to clearly define the process interfaces and potential software integration elements between PLM, ERP and MES.
Define a software selection process.
Evaluate and select a software solution(s).
Prepare appropriate project cost estimates and ROI and obtain Steering Team approval.
Negotiate contracts with an implementation partner and software provider.
Work with the Steering Team and all managers to obtain resources to support the project. 
Lead the transformation of business processes and implementation of new "Off the Shelf" software to improve LMI operations.
Work with IT Infrastructure and Security groups to ensure that all technical requirements are considered.
Ensure that the SAP system support needs are adequately addressed. LMI has a small technical team to support the environment with the majority of services outsourced (AMS, Basis, Hosting). This individual will need to interface with LMI's partners and internal staff to ensure appropriate support.
Serve as the focal point within the ERP Program Office for all technology-related issues. 
Must have detailed understanding of SAP and function as a subject matter expert with comprehensive knowledge to properly architect a solution.
Applies in-depth and specialized expertise and/or a significant breadth of expertise in own professional discipline and other related disciplines. Interprets internal/external business challenges and recommends best practices to improve products, processes, or services.
Applies a comprehensive understanding of how the organization operates to solve technical, operational, and business problems.
Uses sophisticated analytical thought to exercise judgment and identify innovative solutions.
Leads teams or projects with moderate resource requirements, risk, and complexity.
Mentors less experienced teammates to build their own technical expertise. Impacts the achievement of client, operational, project, service, and risk management objectives.
Establish the BI program at LMI and ensure its rollout aligns with the needs of the business.
TRAVEL:
25 - 30% domestic and international travel is required to visit LMI and customer sites based on project activities.
EDUCATION AND EXPERIENCES
Bachelor's Degree, seven (7) - ten (10) years of software implementation experience, including SAP project experience. MBA is preferred.
Excellent PC skills. Understanding of LMI current business processes and IT system environment. Understanding of "world class" manufacturing and assembly business processes. Thorough understanding of SAP concepts and processes. Strong Project Management skills and experience. Understanding of the current LMI IT environment, applications, and infrastructure. PMP certification desired.  
Ability to work in a dynamic environment with multiple priorities and shifting time requirements. Must be able to promote a participative, team-oriented environment, working with customers (both internal and external), all employees, vendors and others in a professional and respectful manner. 
Demonstrated ability to gain consensus while remaining focused on key outcomes. Adept to managing change. Ability to set and meet goals. Effectively delegate to meet project objectives. Ability to identify and develop talent. Ability to give and receive feedback well. Must possess proven ability to successfully facilitate change.
Excellent communication skills and be able to communicate clearly and professionally, both orally and in writing. 
Ability to read, analyze and interpret general business periodicals, professional journals, technical materials and governmental regulations. Ability to write reports, business correspondence, work instructions and procedure manuals. Ability to effectively present information and respond to questions from groups of managers, customers, employees and vendors. 
Ability to define problems, collect data, establish facts and draw valid conclusions. Ability to deal with several abstract and concrete variables. Ability to compile and present data in a format that facilitates information sharing and decision making.
In order to comply with U.S. government regulations applicable to this position, all applicants must be either a U.S. citizen, lawful permanent resident of the U.S., as defined in 8 U.S.C. 1101(a)(20) or a "protected individual", as defined by 8 U.S.C. 1324b(a)(3).
WHY CHOOSE LMI AEROSPACE?
401(k) retirement savings plan with a percentage company-match contribution
Competitive wages
Paid holidays
Paid time off
Medical, dental, vision, life, and accidental insurance
Short-term disability
Long-term disability 
Employee assistance plan — for access to counseling, consulting and other community resources
Wellness program
Tuition assistance
This job description is only a summary of the typical functions of the job, not an exhaustive or comprehensive list of all possible job responsibilities, tasks, and duties. The responsibilities, tasks, and duties may differ from those outlined in the job description and other duties, as assigned, may be required. This document does not create an employment contract. Employees of the Company are employed on an "at will" basis and may be terminated at any time. 
LMI is an equal employment opportunity employer. Consistent with applicable law, LMI provides access and opportunities to those with disabilities. This includes providing reasonable accommodation to individuals with disabilities and disabled veterans who seek to access the company's online application system. If an applicant is unable to fully access the online application system, LMI will provide a reasonable accommodation. Applicants with disabilities may contact us at 636-916-2400 for assistance accessing the on-line application system. Callers should have a detailed description of the requested accommodation, their name and preferred method of contact ready for LMI's Human Resources Department. LMI will make every effort to respond within two (2) business days. This phone number is not for the general submission of application materials.
LMI is an E-Verify Employer.
LMI is an Equal Employment Opportunity/Affirmative Action/Disability/Veterans Employer.
50708840