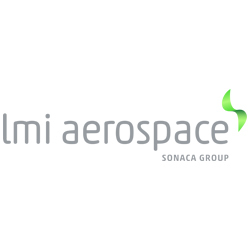 Production Control Manager
Saint Charles, MO
WHO ARE WE
LMI is a world-class leader in designing, building and manufacturing aerospace structures, systems and components for commercial, business, regional, and military aerospace customers. We employ engineering, manufacturing and testing experts throughout the United States and the rest of the world. Our integrated team approach and full life cycle capabilities enable our employees to take advantage of a wide range of opportunities for career growth within our organization.
POSITION SUMMARY
We are currently seeking a Production Control Manager. This position is responsible for production control, customer service, planning and estimating including direct supervision of these groups. Supports LMIA's Quality Policy, Mission Statement and other LMIA policies and procedures by supporting our commitment to total customer satisfaction, quality products and services, LEAN processes, continuous improvement, on-time delivery, safety, teaming, individual accountability, and respect for all people.
ESSENTIAL JOB RESPONSIBILITES
Coordinates information and communication required for releasing, tracking, processing and shipping of parts per customer requirements.
Reporting and tracking of on time delivery performance.
Manage customer service and production control including (shear, shipping & receiving, Raw material handlers, kitters, etc.) Responsible for performance management and development of all team members.
Ensure that the work of the department/work center is well integrated with the work of other departments and work centers such that the overall process serves customer needs and is accomplished in an efficient and cost effective manner.
Ensure all departmental employees know and follow the appropriate Quality Assurance Procedures (QAPs). Conduct periodic "self-audits" of the department to track compliance.
Ensure development in building a team environment.
Maintaining and improving upon existing inventory control system and related processes within the applicable policies of the corporation and Sarbanes-Oxley
Implementing and expanding the use of computerized ERP system, while reducing unnecessary paperwork and manual procedures along the way 
Streamlining and making more efficient, all inventory control processes to minimize/ eliminate inventory discrepancies
Monitoring and controlling factory inventory levels, including raw materials and finished goods
Monitoring and dispositioning obsolete inventory with corporate and controller interaction
Developing and implementing production and procurement policies that meet both the needs of the Customer and financial objectives of the facility
Monitoring inventory transactions with respect to raw material and finished goods to identify errors.
Work productively and constructively with the other major functions within the factory (value streams, assembly, quality assurance, administration and H/R) to meet delivery requirements.
Work productively and constructively with external customers to resolve both technical and commercial questions or problems that arise throughout the supply chain.
Improve factory performance in the areas of on-time delivery, profitability and quality ratings.
Maintains issues related to facilities, i.e. roof leaks, remodels, etc.
Developing material business cases for new mission changes, supporting equipment and personnel
Develops and implements strategies to manage departmental materials management operations by initiating reviews of Material Management internal and external processes, identifying problem areas and establishing action plans for improvement; directing reviews of inventory levels to ensure maximum ability to meet customer needs and reduce inventory costs; ensuring the transfer of refurbished Reclamation items into inventory system
Contributes to team effort by leading intra-departmental teams in review of processes to improve materials management functions; proactively seeking customer requirements and comments on quality of service; creating a process to ensure employee concerns are addressed; ensuring the fair application of LMI Policies; treating employees with respect; being an advocate for improving the effectiveness and efficiency of the materials management process.
Maintain a positive work atmosphere by behaving and communicating in a manner to get along with customers, co-workers and management.
Actively participates in work center and cross-functional process improvement teams by attending team meetings, completing action items, encouraging complete and respectful discussion and understanding of goals, alternatives and solutions.
Conduct all business transactions and communications in a professional manner congruent to company policy. Maintain company confidentiality in all dealings with vendors, customers, etc.
The following functions and related personnel report directly to the Materials Supervisor: Outside Processing Purchasing, Raw Material Inventory Control, Cycle Count
Practice safe procedures at all times.
May occasionally work for short periods in another LMI facility to accommodate customer requirements and/or adjust for variation in workflow within the company.
Performs general housekeeping.
All duties as assigned by the Supervisor and or other members of the management team.
To know, understand and follow all job tools available and applicable to the job and the plant including QAP's, work instructions, etc.
EDUCATION AND EXPERIENCES
The supervisor should have considerable knowledge and experience in logistics and materials management in a mid-size ($10+ million) manufacturing business, preferably in a sheet metal and light assembly environment.  
Prefer a bachelor's degree or higher in Business, Industrial Engineering, or similar manufacturing-related fields.
Prefer APICS and/or NAPM (ISM- Institute of Supply Management) training and certification
Ability to read drawings and understand technical specifications
Familiarity with financial concepts, especially cost accounting, inventory valuation, and reserves
Familiarity with information technology concepts including PC hardware, office software (MS Office) and basic networking, AS400 experience a plus
Experience with lean manufacturing tools and techniques as they relate to a manufacturing environment 
Excellent leadership and communication skills including: listening, explaining concepts, giving instructions, mentoring and creating understandable/accurate documentation.
Must be able to manage the change process including the involvement of highly experienced, long-term employees who may have a strong investment in and loyalty to the existing process.
Must work closely with the General Manager, securing his approval and support of the changes that are made and how they are brought about.
Supervisor must have managed a department with at least 5 people.
Travel Required
20% of Time Traveling
In order to comply with U.S. government regulations applicable to this position, all applicants must be either a U.S. citizen, lawful permanent resident of the U.S., as defined in 8 U.S.C. 1101(a)(20) or a "protected individual", as defined by 8 U.S.C. 1324b(a)(3).
WHY CHOOSE LMI AEROSPACE?
401(k) retirement savings plan with a percentage company-match contribution
Competitive wages
Paid holidays
Paid time off
Medical, dental, vision, life, and accidental insurance
Short-term disability
Long-term disability
Employee assistance plan — for access to counseling, consulting and other community resources
Wellness program
Tuition assistance
This job description is only a summary of the typical functions of the job, not an exhaustive or comprehensive list of all possible job responsibilities, tasks, and duties. The responsibilities, tasks, and duties may differ from those outlined in the job description and other duties, as assigned, may be required. This document does not create an employment contract. Employees of the Company are employed on an "at will" basis and may be terminated at any time. 
LMI is an equal employment opportunity employer. Consistent with applicable law, LMI provides access and opportunities to those with disabilities. This includes providing reasonable accommodation to individuals with disabilities and disabled veterans who seek to access the company's online application system. If an applicant is unable to fully access the online application system, LMI will provide a reasonable accommodation. Applicants with disabilities may contact us at 636-916-2400 for assistance accessing the on-line application system. Callers should have a detailed description of the requested accommodation, their name and preferred method of contact ready for LMI's Human Resources Department. LMI will make every effort to respond within two (2) business days. This phone number is not for the general submission of application materials.
LMI is an E-Verify Employer.
LMI is an Equal Employment Opportunity/Affirmative Action/Disability/Veterans Employer.
50708837